ДИСКОГРАФИЯ
Burzum "Filosofem" 1996
Misanthropy Records / Cymophane Productions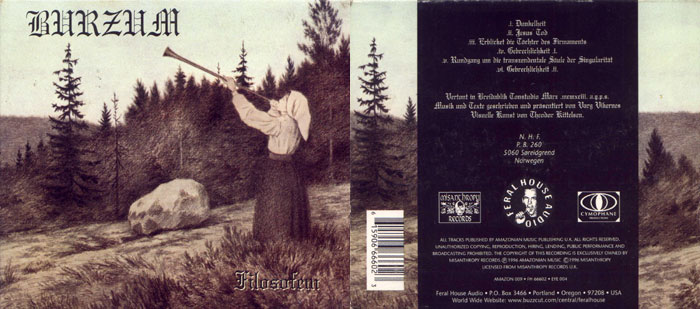 Перечень Композиций - Норвежская Версия:

Burzum
Jesu Død
Beholding The Daughters Of The Firmament
Decrepitude I
Rundtgåing Av Den Transcendentale Egenbetens Støtte
Decrepitude II

Перечень Композиций - Германская Версия:

Dunkelheit
Jesus' Tod
Erblicket Die Töchter Des Firmaments
Gebrechlichkeit I
Rundgang Um Die Transzendentale Säule Der Singularität
Gebrechlichkeit II

Купить:




Слушать на Apple Music:




---


Записано в с марте 1993 г. в студии Breidablik
Музыка и тексты: Варг Викернес
Иллюстрации: Теодор Киттелсен

Cymophane Productions
Тексты Песен
Burzum
Август 1991

When night falls
She cloaks the world
In impenetrable darkness
A chill rises
From the soil
And contaminates the air
Suddenly...
Life has new meaning

Jesu Død
Февраль 1993

En skikkelse lå der på bakken
Så vond at de blomster rundt visnet
En dyster sjel lå der på bakken
Så kald at alt vann ble til is
En skygge da falt over skogen
Da skikkelsens sjel visnet bort
For skikkelsens sjel var en skygge
En skygge av vondskapens makt

Beholding The Daughters Of The Firmament
Январь 1993

I wonder how winter will be
With a spring that I shall never see
I wonder how night will be
With a day that I shall never see
I wonder how life will be
With a light that I shall never see
I wonder how life will be
With a pain that lasts eternally
In every night there's a different black
In every night I wish that I was back
To the time when I rode
Through the forests of old
In every winter there's a different cold
In every winter I feel so old
So very old as the night
So very old as the dreadful cold
I wonder how life will be
With a death that I shall never see
I wonder why life must be
A life that lasts eternally
I wonder how life will be
With a death that I shall never see
I wonder why life must be
A life that lasts eternally

Decrepitude I
Декабрь 1992

Tears from the eyes so cold, tears from the eyes, in the grass so green.
As I lie here, the burden is being lifted once and for all, once and for all.
Beware of the light, it may take you away, to where no evil dwells.
It will take you away, for all eternity.
Night is so beautiful (we need her as much as we need Day).

Rundtgåing Av Den Transcendentale Egenbetens Støtte
Март 1993



"Urds brønn er ikke lenger et dunkelt dyp vi stirrer nedi, men en levende strøm som går befruktende gjennem Nordens land. Ja, mod Tilvaerelsens høieste Syner kan dette Liv nu hæve sig i Udfoldelse af sin Grundkraft og Eiendommelighed, hæve sig til Alfader, der er over Valhal, til ham, til den sande Gud..."
(Johan Sebastian Cammermeyer Welhaven)



Decrepitude II
Декабрь 1992

Instrumental


---
АНГЛИЙСКАЯ ВЕРСИЯ ТЕКСТОВ ПЕСЕН
Darkness

...

Jesus' Death

A figure laid on the ground
So malicious, that the flowers around him withered
A dark soul laid on the ground
So cold, that all water changed into ice
A shadow fell over the woods
As the figure's soul withered towards it
Because the figure's soul was a shadow
A shadow of the forces of evil

Beholding The Daughters Of The Firmament

...

Decrepitude I

...

Tour Around The Transcendental Columns Of Singularity



"The well of the region is no longer a dark depth, in which we stare, but a living stream, that fertilely flows through the lands of the North. Yes, to the highest visions of essence, this life can now elevate itself into development of it's true power and particularity, elevated to the father of all, who is up high in Valhalla, to him, the true god..."
(Johan Sebastian Cammermeyer Welhaven)




---
ГЕРМАНСКАЯ ВЕРСИЯ ТЕКСТОВ ПЕСЕН
Dunkelheit

Wenn die Nacht einfällt
Bedeckt sie die Welt
Mit undurchdringlicher Dunkelheit
Kälte steigt vom Boden auf
Und verpestet die Luft
Plötzlich...
Hat das Leben neue
Bedeutung

Jesus' Tod

Eine Gestalt lag auf dem Boden
So bösartig, dass die Blumen um sie herum
Verwelkten
Eine dunkle Seele lag auf dem Boden
So kalt, dass alles Wasser sich in Eis verwandelte
Ein Schatten fiel über den Wald
Als der Gestalts' Seele dahinwelkte
Denn der Gestalts' Seele war ein Schatten
Ein Schatten der Kräfte des Bösen

Erblicket Die Töchter Des Firmaments

Ich frage mich, wie wird der Winter sein
Wenn ich den Frühling niemals sehen werde
Ich frage mich, wie wird die Nacht sein
Wenn ich den Tag niemals sehen werde
Ich frage mich, wie wird das Leben sein
Wenn ich das Licht niemals sehen werde
Ich frage mich, wie wird das Leben sein
Wenn der Schmerz endlos währt
In jeder Nacht ist das Schwarz anders
In jeder Nacht wünsche ich mir die Zeit zurück,
In der ich durch die alten Wälder ritt
In jedem Winter ist die Kälte anders
In jedem Winter fühle ich mich so alt
So alt wie die Nacht
So alt wie die furchtbare Kälte
Ich frage mich, wie wird das Leben sein
Wenn ich den Tod niemals sehen werde
Ich frage mich, wieso muss das Leben
Ein Leben sein, das ewig währt
Ich frage mich, wie wird das Leben sein
Wenn ich den Tod niemals sehen werde
Ich frage mich, wieso muss das Leben
Ein Leben sein, das ewig währt

Gebrechlichkeit I

Tränen aus den Augen so kalt, Tränen aus den Augen, in das Gras so grün
Als ich hier liege, wird die Bürde von mir genommen für immer und ewig, für immer und ewig
Habt acht vor dem Licht, es kann euch entführen, dahin, wo es kein Böses gibt
Es wird euch entführen, für alle Ewigkeit
Nacht ist so schön (wir brauchen sie so sehr wie den Tag)

Rundgang Um Die Transzendentale Säule Der Singularität



"Die Quelle des Urd ist nicht länger ein dunkles Tief, in das wir starren, sondern ein lebender Strom, der fruchtbar durch die Länder des Nordens fließt. Ja, gegen die höchsten Visionen der Essenz kann sich dieses Leben nun in Entwicklung seiner gründenden Kraft und Sonderlichkeit erheben, erheben zum Allvater, der über Walhall ist, zu ihm, dem wahren Gott..."
(Johan Sebastian Cammermeyer Welhaven)



Gebrechlichkeit II

Instrumental


---
Рассказы - Английская Версия
Creeping And Crawling, Rustling And Fluttering
There are two natural lights in this world, the sun and the moon. The first distorts the appearance of the other, often until it is unrecognizable. The sun gives us colour, warmth and clarity, while the moon gives us no colour, coldness and unclarity. We live in the sunlight, and we make artificial sunlight, after Arvakr and Alsvinnr, send by Sol, have drawn down the sun in sea in the West, because we like colour, warmth and clarity. The starting-point of our reality lies in this light; when Naglfaris' wife, Night, comes, our world disappears in a certain way. She is illuminated by a light, that we don't like, the colourless, cold and indistinct moonlight. Strange beings show themselves in the woods and the people draw back into their reliable, small houses. Out there, only the forces of darkness reign, yes, in the most true meaning of the word. The world becomes a total different one, for some the world becomes a place worth living. For those, who want to challenge these giants, who are brought to us by the moon in the shape of uncontrollable powers of nature, the world finally becomes a place really worth living in.
The Water-Spirit, Like A White Horse
A long time ago, in the time of the beginning, there was a power, that gave life and peace to everything, that grew and lived around it. This power existed in the entire North in small vegetation and lakes, and it always got something in return for the power, that it emanated on the surroundings. This power was strengthened by animal sacrifices, fallen warriors and their pride, boats, that people had won after a battle with others, and every year a priestess was sacrificed to it, and also some slaves. It was strong, and as a result, it's surroundings and those, who lived there, became stronger, they grew and flourished. But suddenly the power got no more sacrifices, the people got infected by a spiritual plague, that took their knowledge and wisdom; their ancient knowledge sank deep into their sub-consciousness. The power faded and drew itself back, deep into the abyss of dying small brooks and lakes in the North. Still, it exists there, at the bottom of these cold and dark waters. At some places, it doesn't exist anymore, expelled by the stupidity and mistrust. At some other places, it still exists. When it's night, the power lures animals and people, because we should strengthen it again, so the surroundings become as vivid again as they used to be, so we can live in fortune and prosperity again, as we used to.
The Sea-Ghost
When you go to the most remote isles close to the sea out of the Norwegian coasts, you can see the old Norwegian leaders, who were lost at sea a long, long time ago. Even now they sail there outside, and when the wind is strong, you can often see their floating graves, that pop up out of the waves, and disappear again between the waves. You will notice their sad expression, and their intense longing. A lot of them are already sailing for about thousand years out there, sailing in search for a harbor, where they can cast anchor, a harbor, that welcomes them with open arms... They are still looking for a friendly harbor, but not once their own harbor had let them in; they were betrayed by their descendants, betrayed by their own children. I wonder, how long will they have to search, these betrayed men - our proud ancestors - until they find a harbor, where they can land, a harbor, who will welcome them and their old burden with open arms? For how long?
Mouse Town
Together with the spiritual pestilence of the South, something also came, that killed courage and honour. The light, how the pestilence was called, troubled countless men and women, forced them, to die in their beds, not seldom of death by age. Men, who could have won fame and honour by a meaningful death on the battlefield, often had to die of weakness of age. The forces of darkness were therefore to be exterminated, war was a sin and no man dares to kill another. There was peace, but no true peace, because this peace cost the people more energy than every war could have. An eternal peace is no peace, it is the differences which create energy. The light didn't warm them, it burned them; the light didn't let them see, it blinded them; the light sucked all energy out of them and they died after a long, honourless life in bed. The light brought them peace, god's peace, pure hell! (Written sometime in the future)
Twelve Men In The Woods
In the Norwegian woods a community of superior people, twelve of them, who were cast away by the people through deceit and because of their belief were made lawless. They travel around, accommodate the superior people from far away at the coast of Norway, and wait for the honour and pride of the people - their chief - to return. All the way at the horizon you can see them coming, jumping and frisking, to make the lower people human again. He saw a blaze in the Northern sky, a light so true as the deceit of the Christian people. All the way out on the Northern-Road there are some, in who's perceptibility he didn't disappear. We lighted a blaze in the Northern sky, strong enough, that they have seen them all. Thirteen Aegis gathered on the Plain of Ideas: Wotan and twelve of his sons - Forseti, Widar, Njord, Frey, Donar, Tyr, Heimdall, Bragi, Wali, Ull, Hoenir and Loki. They lead and reign well.
---
Рассказы - Норвежская Версия
Det Rusler Og Tusler, Rasler Og Tasler
Det finnes to naturlige lamper her i verden, sola og månnen. Den ene forvrenger den andres virkelighet, av og til til det ugjennkjennelige. Sola gir oss farger, varme og klarhet, mens Månen gir oss fargeløshet, kulde og uklarhet. Vi lever i sollys etter at Arvark og Alsvinnr, styrt av Sol, har slept sola ned i havet i vest, for vi liker både farger, varme og klarhet. Vår vikerlighet har utgangspunkt i dette lyset, når Naglfaris hustru kommer forsvinner på en måte vår verden. Den lyses opp av et lys vi ikke liker, det fargeløse, kalde og uklare månelyset. Uhyggelige skikkelser gir seg til kjenne ute i skogen og menneskene trekker seg tilbake til sine trygge små hus. Utenfor hersker mørkets makter, ja bokstavlig talt. Verden blir en helt annen, for noen blir verden verd å leve i, for dem som liker å sloss mot disse Jotnene, disse ukontrollerbare naturkreftene månen bringer frem, for dem blir verden enbelig verd å leve i.
Nøkken Som En Hvit Hest
Engang for lenge siden, i opphavstider, fantes en kraft som ga liv og glede til alt som vokste og levde rundt den. Denne kraften fantes spredt rundt over hele Norden i små vann og tjern, og den fikk alltid noe igjen for kraften den eminerte til omgivelsene. Den ble stryket med blot av dyr, falne krigere og all deres prakt, båter som mennsker hadde vunnet i kamp not andre, og den fikk også en prestinne en gang årlid kastet til seg, og noen treller. Den var sterk, omgivelsene og de som levde der ble dermed også sterk, de vokste og triveds vel. Men så sluttet kraften å få sine blot, menneskene rundt ble smittet av en åndelig pest som tok fra dem både vett og klokskap, de eldgamle kunnskapene sank dypt inn i det ubevisste. Kraften visnet og sank ned i dypet på de døende tjernene og innsjøene i Nordens land, dog finnes den der ennå, i bunnen på disse kalde og mørke vann. Noen steder er den vekk, drevet vekk av dumhet og mistro, andre steder finnes den ennå. Når Nátt er der lokker kraften, dyr og mennesker bort til seg, for at vi skal styrke kraften igjen, for at omgivelsene skal bli like levende som de engang var, for at vi skal leve i sæl og vekst atter engang.
Draugen
Om natten om du går ut på de ytterste øyene mot havet utenfor Norskekysten kan du, om du er heldig, få øye på de gamle Norske høvingene som fikk skipsgrav for lenge, lenge siden. De seiler der ute ennå, og når vinden er sterk kan du av og til se et deres flytende graver komme opp på en bølgetopp for så å forsvinne ned igjen mellom bølgene. Du vil legge merke til deres sørmodige blikk, og deres preg av lengsel. Enkelte av dem har seilt rumdt der ute i lusen år snart, seilt rundt om på havet i søken etter en havn å legge til ved, en havn som er villig til å ta dem imot med åpne armer. De leter ennå etter en vennlig havn, slev ikke deres egne havner tar dem imot, de er svitket av sine etterkommere, forrådt av sine egne barn. Jeg undres, hvor lenge må de lete, disse svenke menn-våre stolte forfedre - før de finner en havn å ankre opp i, en havn som tar dem og deres gamle last imot med åpne armer? Hvor lenge?
Musstad
Med åndepesten fra sør kom også det som drepte motet og æren. Lyset, som pesten keltes, pinte utallige menn og kvinner, tvang dem til sottedød, ikke rent sjelden til Ånesott. Menn som kunne ha vunnet heder og ære ved å dø en verdig død på slagmarken ble tvunget til Ånesott. Mørkets krefter skulle lukes bort, krig var en synd og ingen mann skulle lenger drepe en annen. Det hersket fred, men ingen ekte fred, for freder kostet folk mere krefter enn det noen krig kunne ha kostet dem, en evig fred er nemlig ingen fred, det er forskjellene som skaper energi. Lyset varmet dem ikke, det brant dem, lyset lot dem ikke se, det blendet dem, lyset sugde ut all energien fra dem, og de døde i sengen etter et langt æreløst liv. Lyset brakte dem fred, Guds fred, det sanne Helvete. (Skrevet en gang i fremtiden).
Tolv Mand I Skoge
I de Norske skogene finnes en flokk stormenn, tolv stykker som folket jadge vekk med sitt svik, og gjorde til varger for sine meniger. De ferds rundt om, gjester storfolket ytterst i leden, og venter på at menneskenes Ære og Stolthet skal komme tilbake, deres Høvding. Langt der borte i horisonten ser de ham komme, med stormsteg for å gjøre de nedrige menneskene til folk igjen. Han så et glimt på en norrøn himmel, et lys like ekte som kristenfolkets svik. Ytterst i leden finnes noen han aldri forsvant ut av øyet på, det var vi som skapte et glimt på den norrøne hlimmeeln, sterkt nok til at dere alle fikk se det. Når Æsene samler seg på Idavollrin er de tretten stykker. Odin og tolv av hans sønner, Forseti, Vidarr, Njordr, Fryr, Thorr, Ty, Heimdallr, Bragi, Váli, Ullr, Hænir og Loki. De går til råds og dømmer vel.

Верхняя одежда Burzum (Россия)