LIBRARY
Until the Light Takes Us (2008)
Music. Arson. Murder. Art. Black Metal.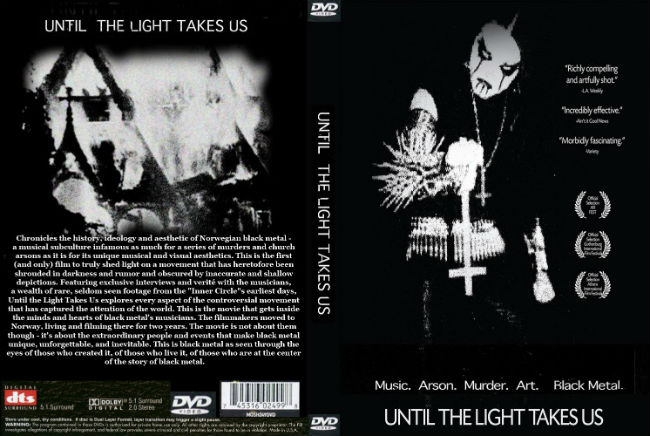 Directors: Aaron Aites, Audrey Ewell
Release year: 2008
Companies: Artists Public Domain, Field Pictures, The Group Entertainment
Format: DVD
Total Playing Time: 1 hour 33 minutes



Chronicles the history, ideology and aesthetic of Norwegian black metal - a musical subculture infamous as much for a series of murders and church arsons as it is for its unique musical and visual aesthetics. This is the first (and only) film to truly shed light on a movement that has heretofore been shrouded in darkness and rumor and obscured by inaccurate and shallow depictions. Featuring exclusive interviews and verité with the musicians, a wealth of rare, seldom seen footage from the "Inner Circle"s earliest days, Until the Light Takes Us explores every aspect of the controversial movement that has captured the attention of the world. This is the movie that gets inside the minds and hearts of black metal's musicians. The filmmakers moved to Norway, living and filming there for two years. The movie is not about them though - it's about the extraordinary people and events that make black metal unique, unforgettable, and inevitable. This is black metal as seen through the eyes of those who created it, of those who live it, of those who are at the center of the story of black metal.